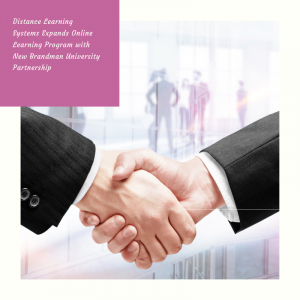 Distance Learning Systems has partnered with Brandman University to provide an online learning program enhancing and supporting educational goals. The Brandman Premier Partnership gives Distance Learning Systems' students increased flexibility and affordability in their continued education.
"Education is vital for success in today's employment market," said Dave Christy, President of Distance Learning System. "Our partnership with Brandman allows our students the opportunity to earn college credits in an accelerated, cost-effective environment while staying current with industry demands within their field of study."
As a Premier Partner, Distance Learning Systems has access to exclusive scholarships that can be applied to multiple pathways including many of its over 80 degree, certification, credential and professional development programs. Brandman also offers custom solutions for staff and provides student-centered services to support them through graduation.
Brandman programs are available at more than 25 campuses throughout California and Washington and online, and through Brandman MyPath, our self-paced online competency-based education modality.
About Distance Learning Systems
Distance Learning Systems, headquartered in Greenwood, Indiana, is believed by many to offer the nation's most effective online learning platform where students maintain a 97% national average pass rate. Distance Learning Systems (DLSII), currently serves over 10,000 students nationwide with customizable, structured, instructor – led online classes. Students will rapidly complete multiple college level courses recognized by Brandman University. Additionally, 2,000 U.S. institutions of higher learning also recognize and accept ACE course credits. Note: The decision to accept specific credit recommendations is at the sole discretion of each college or university; however specific credit transfers between DLSII and Brandman University have been established. For more information visit: ec2-54-149-168-207.us-west-2.compute.amazonaws.com or call toll free 1-888-955-3276.
About Brandman University
Brandman University is a private, nonprofit institution accredited by the WASC Senior College and University Commission (WSCUC). It offers academic programs available at more than 25 campuses throughout California and Washington and online, and through Brandman MyPath, our self-paced competency-based education modality. Not all programs are available at all locations. Program availability is subject to change. To learn more, visit www.brandman.edu.