Distance education has been utilized even before the telephone, television or the computer was invented. It has existed already since the 19th century. The founders of distance education utilized the most effective technological innovation available on their day.
Distance education was created to create possibilities to individuals who desired to study, but were unable enroll in standard schools. Individuals who took advantage of such distance learning education included individuals with physical handicaps, ladies who were not permitted to register for educational facilities open only to men, individuals who had jobs during regular school hours and people who resided in distant regions where educational institutions did not exist.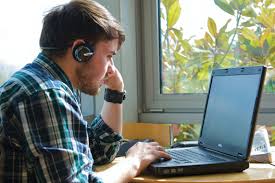 Isaac Pitman, an Englishman, is considered as the early founder. He started educating shorthand by distance learning in Bath, England in 1840. Learners were required to copy short passages of the Bible and send them back for rating using the new penny post system.
American higher education level distance education started in 1874 at Illinois Wesleyan University where bachelors and graduate degrees could possibly be acquired in absentia.
The teaching of educational and vocational classes by distance learning became very popular by 1900. However, issues on good quality and ethical exercise arise, giving bad reputation to some of the schools offering distance learning. The National Home Study Council (NHSC) was established in 1926 partly to deal with these problems. Certification of college and university distance courses fell to the National University Extension Association in 1915.
The creation of educational radio in the 1920s and the introduction of television in the 1940s open a new means of distance education. Teachers made use of these technologies to transmit educational courses to countless students, thus stretching learning chances past the walls of standard teaching institutions. The introduction of efficient long-distance phone systems in the early 1900s also improved the capability of distance educators to get to new student populations. However, telephone systems never performed a notable part in education until the release of new teleconferencing systems in the 1980s and 1990s. Teleconferencing systems made it feasible for instructors to speak with, listen to, and see their students live – that is, without any setbacks in the transmissions – even if they were situated across the nation or around the globe.
Distance education more and more uses mixture of various communication systems to improve the relevant skills of teachers and students to talk with each other. With the spread of computer-network communications in the 1980s and 1990s, many more people acquired usage of computers associated with telephone lines, permitting instructors and students to communicate in meetings via computers.