Assisted living is an alternative living arrangement for senior citizens requiring moderate care, including help with activities like eating, getting dressed, bathing, and using the bathroom as opposed to the more intensive care provided in nursing homes. This type of care serves as an intermediate between in home care for the elderly and the elder care provided by a nursing home. Facilities for this type of living may be in connection with retirement communities, nursing homes, home medical care agencies, or complexes for senior citizens, or they may be separate facilities. This type of elder care is known by many names, such as residential care, board and care, congregate care, and personal care.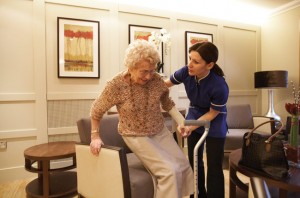 Another aspect of assisted living centers to think about is cost. Assisted living is generally less expensive than elderly care service, but more expensive the in house care for the elderly. The usual range is anywhere from $10,000 per year to over $50,000 per year, so it is important to know what you can afford and how much each service costs. Another thing to know is that there may be fees not included in the basic rate. It will be helpful to figure out how much extra you will have to pay to live in a certain house. Insurance may help cover some of these expenses, but usually, charges are covered primarily by the elderly people who decide to live in these homes or family members responsible for them. Some assisted living centers also offer financial assistance programs, which you may want to inquire about.
Medicare does not cover the expenses of these homes or the senior care provided there. Medicaid is the joint federal and state program that helps elderly people and people with disabilities pay for medical care when they are unable to afford it. It may cover the service component of assisted living in certain states. It is important to consider the different options in elder care. If cost is a concern, it may be helpful to consider in house care. This type of senior care may provide sufficient care for your needs in the comfort of your own house. If the degree of senior care provided by in house care or an assisted living service does not meet your needs, consider an elderly care service or nursing home.