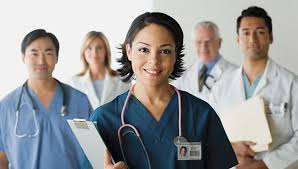 A hospital is an ideal workplace for medical professionals. Many hospitals employ people who chose a career in the medical field. You can find different types of medical professionals working in a hospital. Each professional plays an important role in the workforce. Their duties and responsibilities are useful for achieving the institution's overall goal. Here are the top five medical professionals working in a hospital. These five medical professionals are crucial in providing health related service to the public.
Doctors
Doctors are key personalities in a medical institution. They lead the team in providing health service to patients. Doctors are experts in helping people treat and managed medical illnesses. They are the most reliable person's to consult with about treating a particular medical condition. Physicians know the right medical treatment for a specific disorder.
Nurses
Nurses are also one of the most important employees in a hospital. They usually handle the daily task of monitoring the medical condition of patients. Nurses are also responsible for providing the basic medical treatment to patients like the administration of medicines.
Medical Technologist
MTs usually stay in a hospital's laboratory. They handle the task of analyzing, checking and interpreting a patient's specimen. MTs provide the right medical information needed by doctors to analyze and determine a particular medical condition.
Physical Therapist
Physical therapist are responsible for helping patients recover from a disability. PTs usually handle treatment session aim to help people stand, walk and use their body again. Patients recovering from walking disabilities need the service of a Physical therapist.
Pharmacist
Pharmaceutical products are important entities in many medical treatments. Pharmacists are responsible for securing and managing medicines and drugs needed by patients. They usually are in charge for monitoring the supply of important medicine in the hospital. Many medical institutions employ pharmacists to help them manage their supply of medicines.