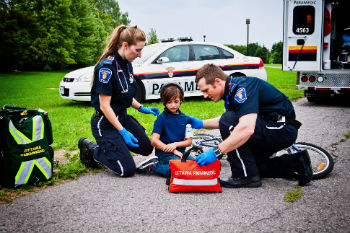 Accidents do happen to people. And when it does expect someone will be calling the paramedic team. The paramedic team are the first medical professionals that will administer first aid to a person in an accident. Quite often, the life of a person depends on the successful first aid treatment given by the paramedic team.
A career as a paramedic can be very exciting and satisfying. Paramedics usually enjoy their job and are eager to help other people receive first aid. If you are undecided unto which career you want to pursue, it's advisable that you consider a profession in a Paramedic team. Here are five convincing reasons to choose a paramedic career.
Part of an Active Profession
The nature of work of paramedic is very active. They usually are on stand by to receive emergency calls that needs their deployment. Paramedics also plays an active role in the society. They provide a person seeking medical attention the needed first aid treatment. A person who wants to get a lively and energetic line of work will find career as a paramedic very fulfilling.
Government service
Most of the Paramedics are employed by government. A person who wants to work for the government may choose a job as a paramedic. Government employees usually enjoys an advantageous compensation and benefits program.
Ability to help people who are at risk
The feeling of helping people who are under critical medical state can be satisfying. A paramedic may find every emergency situation challenging yet fulfilling. Paramedics usually get a strong feeling of satisfaction when they were able to save a person life.
A Social and interactive career
The paramedic team has a strong interpersonal relationship with the public.  They play an important role in providing medical security to the other people. A paramedic team is a very important entity in the society.