Nearly 22,000 students registered in online learning applications or distance education courses through South Dakota's community colleges during the 2012-13 school year, up 8.5% from the year before and up 65% overall during the last five years.  The reported numbers were discussed by the state Board of Regents, whose members govern the community colleges.  Students in distance programs in the last year most frequently were undergraduates (75.5%), part-timers (69.9%) and female (64%).  The University of South Dakota had the largest slice of online learning with 34.4% of the registration and nearly 38% of the applications.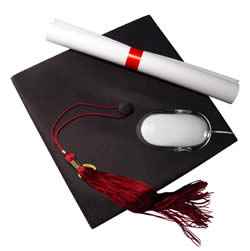 South Dakota State University was right behind in registration at 33.4%, followed by Black Hills State University at 13.2, Northern State University 9.2, Dakota State University 7.8 and South Dakota School of Mines and Technology 2.0.  Distance education covers a variety of delivery methods. Some are available solely through the Internet; others combine Internet and video technology and also involve correspondence and there are classroom programs at off-campus locations. Students getting distance programs increasingly tend to be from outside South Dakota.
The 6,394 non-residents came from almost every state in the nation last year and represented just shy of 30% of the total getting distance programs. Five years earlier, the number was 2,399, just under 24%. Non-degree seeking learners comprised 30.9% of undergraduates and 61.4% of graduate-level learners in distance education programs last year. Nursing, elementary education, pre-nursing and biology were the top four degree-specific programs for undergraduates. Among degree-specific programs, learners registered most often in education administration, business, administrative studies and curriculum and education.