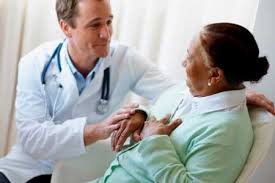 Your physician and the hospice team works along with you and your loved ones to create a plan of health care that fits your preferences and needs. Your plan of care consists of hospice services that Medicare includes.  In the event you are eligible for a hospice care, you will have an exclusively trained team and support accessible to assist you and your loved ones to deal with your illness.
Furthermore, a hospice nurse and doctor are on-call Round the clock, 7 days a week, to provide you and your loved ones with assistance and care when it's needed. A hospice physician is part of your healthcare team. Your family doctor or a nurse practitioner may also be part of this team as the attending medical professional to monitor your care.
Only your family doctor (not a nurse practitioner) that you've selected to serve as the attending medical professional-and the hospice medical director can approve that you're critically ill and have 6 months or less to live. The hospice advantage permits you and your loved ones to remain together in the convenience of your home if you don't need care in an inpatient facility. If the hospice team can determine that you'll require inpatient care, the hospice team can make the necessary arrangements for your stay.
Most hospice individuals get hospice care in the convenience of their house and with their own families. Determined by your condition, you may even get hospice care in a Medicare-approved hospice center, hospital, elderly care, or other long-term care center.
Hospice care is definitely designed for those who have 6 months or fewer to live if the illness goes its normal route. If you live more than 6 months, you may still get hospice care, provided that the hospice medical director or other hospice doctor re-certifies that you're critically ill. Hospice care emerges in benefit durations. A benefit period starts the day you start to acquire hospice care and it ends when your 90-day or 60-day period ends. For additional specific details on a hospice plan of care, contact your national or state hospice organization.