The American Association of Colleges of Nursing has launched initial study information displaying that enrollment in all types of professional nursing programs improved from 2011 to 2012, along with a 3.5% increase in entry-level BSN applications.  The AACN's yearly study results are depending on information revealed from 664 of the 856 nursing educational institutions in the U.S. with baccalaureate and/or graduate student programs (a 77.6% reaction rate). In an individual study, the AACN found a strong hiring choice for new nurses ready at the baccalaureate stage and a relatively high job-placement amount for new BSN graduate learners. "AACN is satisfied to see across-the-board increase in nursing education enrollments this season given our dedication to motivating all the medical staff to advance the amount and learning as a change for enhancing individual care," AACN Chief executive Jane Kirschling, RN, PhD, FAAN, said in a news launch.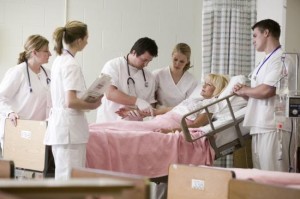 The AACN said its yearly study is the most efficient source for actual,  in contrast to estimated information on registration and graduations revealed by the country's baccalaureate and graduate degree programs in nursing education. This season's 3.5% registration increase for entry-level baccalaureate programs is depending on information provided by the same 539 educational institutions confirming in both 2011 and 2012.
Among the most popular results, the number of learners registered in RN-to-BSN applications improved by 22.2% from 2011 to 2012 (471 educational institutions reporting). This year represents the Tenth year of registration increase in these programs, signaling a growing interest among nurses and companies for baccalaureate-prepared nurses, the AACN mentioned.  Stakeholders inside and outside the nursing career such as the Institute of Medicine, Tri-Council for Nursing, National Advisory Council for Nursing Education and Practice, Carnegie Foundation for the Advancement of Teaching and many others are contacting for higher levels of educational development in nursing education.