When Santa Fe Community College graduate Marilu Herrera began working as a respiratory therapist at Presbyterian Rust Medical Center in Rio Rancho about 18 months ago, she gained a starting pay of about $24.40 hourly. That was more than her sister, who has a bachelor's degree from the University of New Mexico, was making as a medical lab technician in those days. "I think, with an associate's degree and as a respiratory therapist, you can start off pretty well," said Herrera, who was not amazed to listen to that a new review declares that college learners who generate an associate degree often earn more money than those who have a bachelor's degree, at least in the first year or two of work.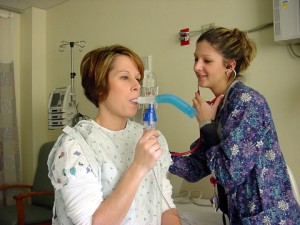 But Herrera's sister has lately caught up to her in wage, another point made in the new research, "College Pays: But a Lot More for Some Graduates Than for Others." The 47-page document, written by Mark Schneider, president of College Measures, uses data from five states, Arkansas, Colorado, Tennessee, Texas and Virginia, to track the earning power of school graduates. In three of the states, Colorado, Texas, and Virginia learners with specialized associate degrees like respiratory therapist, generate more in their first year of work than their alternatives with bachelor's degrees. The review focuses on programs that are more remunerative than others. Graduates with health, engineering and business degrees are out-earning those with liberal arts degrees. And despite increasing dependency on STEM programs in educational institutions, the report indicates that the technology part of that plan does not pay off economically for those earning degrees in biology or chemistry. It hints that learners should focus on TEM and not STEM.
For example, Texas learners with specialized associate degrees gained an average of at least $11,000 more in their first season of employment than learners with bachelor's degrees. Still, Schneider recognized that, gradually, learners with bachelor's degrees gradually economically outpace those who only have associate degrees. Santa Fean Sarah Rodriguez-Aguilar, who is the clinical supervisor for the respiratory therapy department at Christus St. Vincent Regional Medical Center, is aware of that all too well. She gained her second associate degree from Santa Fe Community College and gained $20.18 an hour plus benefits when she began working at the medical center. But upon getting her bachelor's degree via Pima Medical Institute, her wage increased by $5 an hour.