A new effort designed to ease the conversion between associate and baccalaureate degree nursing programs started out to its first class of learners this summer. Based at the School of Nursing at California State University, Los Angeles (CSULA), the program enables learners with associate degrees in nursing (ADN) to earn baccalaureate degrees in nursing (BSN) in 12 months. Supporters of the program see this as a big improvement over the typical ADN-to-BSN conversion, which can take learners two years to complete and often includes repetitive training because of unreliable curricula across nursing educational institutions. It will also enhance diversity in the nursing employees and help develop more wellness professional management, followers said.
"The idea is that learners will get their BSN in a year with no repeating of courses," said Mary Dickow, MPA, state-wide director of the California Action Coalition, a group of wellness professional management and nurse champions who will work to enhance nursing and nursing care in situations by changing the nursing career. The California Action Coalition is a part of the Future of Nursing: Campaign for Action, a national campaign supported by the Robert Wood Johnson Foundation (RWJF) and AARP that is attempting to convert health care through nursing.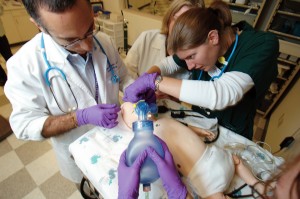 The CSULA programs draws from a white paper on nursing education upgrade, called the California Collaborative Model for Nursing Education (CCMNE), which was released in 2008 by the California Institute for Nursing & Health Care. The model set out in the white paper and now implemented at CSULA, has been duplicated in other configurations around the state.
The program's overall goal is to create a more highly knowledgeable nursing workforce, which is needed to ensure there is an adequate supply of nursing staff and to enhance the quality of care. Research has shown that BSN-prepared nursing staff provides more secure care, in part because of their background in pathophysiology and because of their understanding of disease procedures, Judson said. Equipped with this type of nursing education, many companies in the region are now demanding that new nursing staff hold bachelor's degree or higher, leaving ADN-prepared nursing staff with less job opportunities. This program is a life line that allows many to continue their nursing careers.