Advanced Placement Credit: A qualified person who has taken school level work in high school may get academic credit. Examinations used to determine advanced placement are the Advanced Placement Test of the College Entrance Examination Board and The Achievement Tests in English Composition and Intermediate Mathematics (Level 1). A last determination of credit is made after results have been assessed by the college.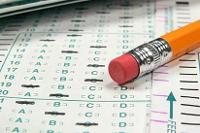 Credit by Examination: College credits are generally earned through participation in scheduled classes. Then again, a few courses permit credit by examination. A student at presently enrolled, who presents satisfactory proof that he or she is qualified in a specific subject may get credits for a course by an examination ("challenge examination") approved by the proper instructional department or through the College Level Examination Program (CLEP). Satisfactory proof may be and not restricted to, work experience, non-credit courses, course work taken at non-authorized establishments, or military courses. Such exams include:
College Board Advanced Placement (AP)
College Level Examination Program (CLEP)
International Baccalaureate Program (IB)
College Board Achievement Test (ACH)
Scholastic Aptitude Subject Test II (SAS)
Defense Language Institute (DLI)
American College Testing Proficiency Examination Program (PEP)
(DANTES)
GRU Departmental Examinations (DEPT)
A student may take challenge examinations before enlisting, yet will usually get credits for courses tested just after successfully finishing six semester hours. Courses in which a learner is or has been enlisted may not be tested and courses which require demonstration and provision of skills (useful, lab sciences and courses requiring field work or execution, for instance) may be tested just with the authorization of the director of the office offering the course. There is usually a $5 per credit hour charge for departmental "challenge" exams.