Nurses have many roles. A nurse may be an assistant to a medical specialist or part of the surgical team of doctors on their way to an operation. But nurses have specific duties to perform, not just mere assistants. You could at least point out five of those roles a nurse has to perform on a daily basis. The fundamentals of nursing could be as complicated as its demanding work at times, but the results are always rewarding.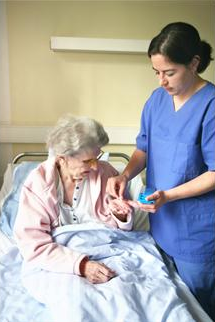 Assessing a Patient
As soon as the patient is housed inside the hospital, a nurse almost immediately has to perform an assessment to the patient. This initial assessment might prove valuable later on, particularly with performing a diagnosis.
Diagnosis
Nurses, after conducting an initial assessment, could perform a simple diagnosis to their patients. A nurse might want to interview the patient further and diagnose the patient properly.
Nursing Care
Immediately after giving a simple diagnosis, a nurse has to devise a plan on how to take care of the patient. That plan though is in keeping with the assessment and its corresponding diagnosis.
Medical Intervention
If a patient is in need of further diagnosis, a nurse might be able use the services of a doctor. This will assure the patient that the initial medical attention has its confirmation with another medical staffer.
To Recap
After doing the necessary assessment and diagnosis, and providing initial medication to the patient, a nurse has the responsibility to evaluate the said patient. This evaluation would either give further medical attention or would recommend a release for the patient.
These are basically the fundamentals of nursing, the basic things that a nurse has to do in the course of his/her duty. Indeed, they have many roles, and it's more than just assisting.