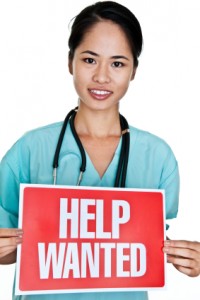 The Wall Street Journal reported that technological progressions, expanded focus on costs and enhancing patient results obliges organizations to demand more from both their high-skilled and low-skilled workers. This pattern is pushing LPN staff, which is viewed as a middle skilled occupation that doesn't require a degree, out of hospitals and into lower paying places like assisted living centers. How has LPN hiring changed over the past 4 years?
Throughout the past 4 decades, the smallest number of occupation ads for LPN was seen throughout January 2010. From that point forward, hiring demand rose 60%. There were 38,000 jobs promoted on the web, which is a 17% decline when compared to the same 30-day interim in 2012.
The highest number of LPN job ads throughout showed up in Atlanta (GA), Minneapolis (MN), and Houston (TX). Of the metro places with the best demand, Minneapolis was the main area to experience year-over-year improvement, expanding 11% when compared to the same 30-day interim the past year. Recruiters in many spots are liable to have great employing conditions with a national average score of 15 on the Hiring Scale (the Hiring Scale scores reaches from 1 – 99, with 99 representing hardest-to-fill.) However, there are 5 places that score between 62 and 71, indicating that organizations in these places may experience issues looking for this talent. These places include:
Casper (WY)
Anchorage (AK)
Sioux Falls (SD)
Kennewick-Pasco-Richland (WA)
Fargo (ND)
WANTED Analytics™ demonstrates that LPNs were all the more sought after at general medical and surgical hospitals than anyplace else. Not just is this industry recruiting the most candidates, but has also seen demand expand 21% over last year. Working environments of specialists was likewise among the segments with the most demand and the greatest improvement, climbing 15% since 2012. Home health care services and nursing care facilities both saw extraordinary job ads volume, but demand in these areas diminished in comparison to last year. In these particular parts, LPN hiring issues isn't likely to differ greatly. Home health care services results the lowers on the Hiring Scale with 13 and physician offices scores the highest at 17.