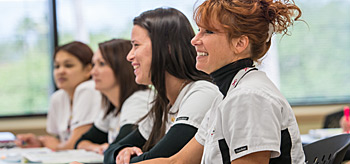 In the United States, being a licensed practical nurse or LPN has a lot of advantages.  One practical advantage is that LPN's consume a shorter period of time in acquiring formal education. They are able to save time and money in earning a degree that qualifies them for a nursing career. However, the chances for a promotion is relatively small compared to RN's. Medical institutions usually prioritize RN's for a lot of vacancies in higher positions. This is one of the major reason why many LPN's take LPN to RN Bridge programs to qualify them for better employment opportunities.
Who is qualified to take LPN to RN bridge programs?
A person who finish an associate degree in nursing is qualified to take this type of educational enhancement program. LPN's who are currently employed in the workforce is also eligible to take this kind of bridge programs. A student who got enough nursing credits may also avail of this bridging program.
What the best way to take a LPN to RN bridge program for employed LPN's?
The basic process of a LPN to RN Bridge program is to earn further nursing units to qualify them for a bachelor's degree in nursing. Normally, a LPN enrolls these in subjects in a nursing school and attend regular classes. Attending regular nursing classes can be challenging to LPN's who are currently working. The best and ideal way to earn the required nursing units is thru enrolling in online distance learning programs. This method of formal education allows a LPN to earn nursing credits without physically attending scheduled classes conducted in the school campus.
How long does it take to finish a LPN to RN bridge program?
This type of bridge program usually takes about One year to One and a half year. This primarily depends on the school you are choosing. It's best to choose an online school that can allow you to finish a LPN to RN bridge program in the shortest possible time.