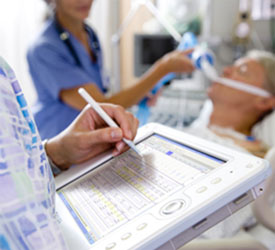 It's no secret that technology is helping increase the quality of the healthcare system in the US. A clear example of this is mobile technology. Mobile healthcare technology has become standard in many hospitals and care facilities as devices and applications help clinicians and patients track and recall data related to individual patient care.
Many hospitals are so large that just navigating their corridors can be a daunting task. To assist with this, internal GPS are already commonly used by staff. Through the GPS and other mobile location devices, healthcare personnel keep tabs on patients at every point of care, avoiding duplicate tests or wrong patients. Monitoring patient flow using mobile-location based technologies will aid in improving the hospital's efficiency and develop logistics for both staff and patients.
The devices nowadays have become more advance and smaller, making it more convenient for the user. Medical devices also are getting smaller and going wireless, allowing providers to bring care to patients in their home or community, rather than requiring patients to repeatedly go back to clinical offices for tests. These devices can be used by patients at home to check their things like blood pressure and send the information to their care provider in real-time. They need not to go back to the hospital for check-up avoiding stress and saving money. The devices will monitor their status which will directly send information to the hospital.
Permitting patients access to their data through patient portals makes them aware of their health status while away from the hospital, giving the patient more comfort and less trauma. It is improving patient engagement and care, as patients find and fill in gaps in their health records that clinicians may have missed. Upgrading the health care system through introduction of new technology saves more lives and promotes patient awareness of their health care.