If you are among those who find satisfaction in helping and looking after people, then nursing is the best suited profession for you. There is a great demand for nursing staff in the health care sector that can look after sick patients. These days, nursing staff are not only limited to medical centers, but they are equally in demand at treatment centers, voluntary organizations, pharmaceutical companies, hospices, jails, residential areas etc. Nursing is a growing profession with no signs of saturation or decrease. Hence, the first step to start a profession in patient care is to get registered in a college of nursing. There are many universities, colleges and community colleges that provide programs on nursing for learners desperate to learn basic skills and fundamentals of nursing.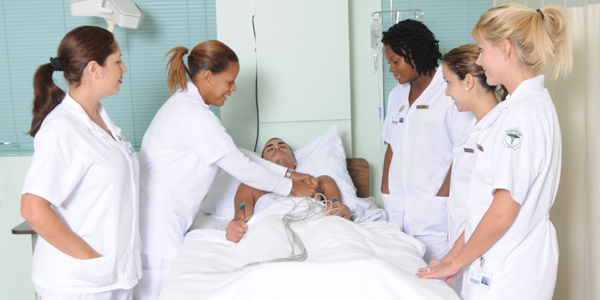 However, the qualifications for an individual to engage in a diploma or a degree in nursing are only after finishing secondary school. Once registered in the course, an individual is taught the basics of human anatomy, physiology, biology, other primary principles, nursing skills and ideas to handle sufferers properly. The fundamentals of nursing include the basic and important jobs of a CNA in the healthcare industry. These primary responsibilities are activities of everyday life like bathing, cleansing, grooming, dressing, ambulation, exercising, feeding etc. Apart from correct diagnosis and medications, the recovery of an individual also depends on the type of care and support he gets from the hospital staff. Hence, it is necessary to know and carry out the fundamentals of nursing process and practice efficiently. Most of the training programs accomplish direct placement to people who qualify with good grades.
A degree program in nursing is generally of three to four years long. This program is separated into two parts. One part of the training is done in classes where learners are introduced to the fundamentals of nursing. This is called the Common Foundation Program. While the other aspect concentrates on the working experience and is performed in medical centers or medical organizations. After studying the primary principles in nursing, an individual is needed to choose his/her field of expertise. For example, specializing in psychological health or specializing in learning disabilities or in nursing for children. Those people who opt for a diploma course in nursing spend three years, while those who opt for a degree program in nursing are required to study for four years. However, there are some organizations that offer a degree in nursing in just three years.