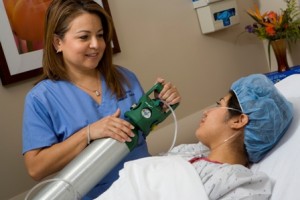 People of every age need respiratory care, from premature infants to adults. Chronic Obstructive Pulmonary Disease (COPD) is the fourth leading killer of adults; people with asthma, bronchitis and emphysema need respiratory therapy. Moreover, people who have had heart attacks, suffered trauma, are born prematurely or have sleep disorders might also need respiratory therapy to help them breathe easier. These are the cases where a respiratory therapist is needed.
Respiratory therapists apply scientific principles to prevent, identify, and treat acute or chronic dysfunction of the cardiopulmonary system, such as asthma, emphysema, pneumonia, cardiovascular disorders and trauma. Their knowledge of the scientific principles underlying cardiopulmonary physiology and pathophysiology, biomedical engineering and technology, enables them to effectively assess, educate and treat patients with cardiopulmonary disorders.
In a hospital setting, the respiratory therapist may play a prominent role in responding to Code Blue or other urgent calls for care in the emergency room. He/she provides care and life-support to patients in the intensive care units, general hospital areas, the pulmonary diagnostics laboratory, and other specialty areas such as rehabilitation. In some hospitals, therapist perform tasks that fall outside their traditional role: pulmonary rehabilitation, smoking cessation counseling, disease prevention and case management.
Responsibilities are varied and demanding for the modern respiratory therapist, from complex diagnostic procedures to supervision of respiratory technicians and equipment. The respiratory therapist may, for example, test a patient's breathing capacity and determine the concentration of oxygen and other gases in a patient's blood. Or, he/she may teach patients and their families to use ventilators and other life-support systems in the home.
Age doesn't matter when it comes to receiving care from a respiratory therapist. Patients range from the premature infant to the eldest of the elderly. The respiratory professional is also involved in diagnostic testing of infants, children and adults with varying medical problems including cardiopulmonary diseases and sleep disorders.