Paramedics are the front-line of any emergency healthcare scenario. Most paramedics really like their jobs due to the specific characteristics. A paramedic's job is very exciting and satisfying. However, there are some who want a more constant job with greater wage. Since they want to remain in the healthcare industry, most paramedics go on to become nurses. They take paramedic to RN bridge programs to help them in their career shift.
Paramedics are the first on the scene where vehicle injuries or any catastrophe occur. They are well qualified, effectively prepared with the skills and information on how to cope with every rescue scenario. Most of them are positioned in ambulances and medical centers. They have a complete healthcare kit for any medical emergency scenario. Their primary job is to transport and offer pre-hospital health care to accident victims.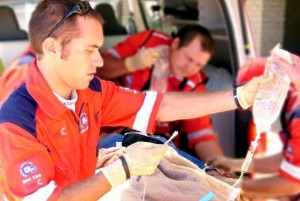 The conversion from paramedic to RN does not have to be a complex one, but becoming an RN does require some time, even for someone with previous healthcare experience. After finishing an associate's or bachelor's degree program, which can take two to four years, you will need to take the National Council Licensure Examination (NCLEX-RN). This examination needs several weeks of learning and review. You will not become a registered nurse without passing the NCLEX-RN.
A paramedic may ask for advanced positioning in the Associate Degree Nursing Program. The program requires students to take the NCLEX-RN examination for state licensure to practice as a nurse. Graduate students have the foundation to continue their education at baccalaureate granting schools. Getting the Bachelor's of Science in Nursing would be a better choice for paramedics who have time in learning and who are looking forward to more career possibilities as an RN. Paramedic to RN programs will help paramedics in that career shift.