"Fast and Easy" and distance education do not always go so well together, but John Sawyer of the National Judicial College did shed some light on different techniques to digital studying in the session How to Make Technology Work for You: Quick and Easy Ideas for Distance Learning. To present the subject, members were requested to discuss some of their encounters with online and share any concerns or issues. Reactions included:
"How do you enhance attendance?"
"Should we create our own modules or purchase libraries?
"Is asynchronous or synchronous studying better?"
"How does combined studying work?"
"Does educational style apply online?
"Do studying modules need to be ADA accessible?"
"Are judicial teachers becoming techies?"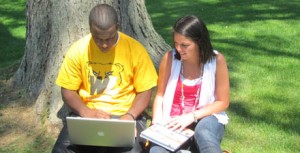 Sawyer revisited primary ideas such as synchronous and asynchronous studying, face-to-face studying and combined studying before examining some software choices relevant to e-learning. He discussed the use of Articulate, Camtasia, Capitivate, iSpring suite, Jing, and Moodle.He then confirmed some studying things that had been designed for the National Judicial College. Some hurdles to easily developing learning objects in distance education (asynchronous learning) consist of the following:
Instructional style needs time.
Distance studying requires a longer period.
Learning things are part of a bigger program.
You need to interact with the student.
Captions or transcript may be required for 508 conformity.
Sawyer then provided some guidelines on educational style for studying objects:
Chunk the information.
Make the student do something.
Tell the student what they are going to do.
Tell the student what they just did.
Maintain a reliability of style.
Identify your studying purpose.
Identify your studying actions.
Write out the entire story for any documented audio segments.
Check for display audience interface.
Conduct needs evaluation.
Focus on growing styles in cellular phones and know what performs.
Develop resilient material.