Health care today is continually facing different challenges as the need for improvement in technology, effective approach and quality health care professional increases. As the American population increases and the number of senior citizen swells, the presence of nurses in hospitals and other health care facilities is in demand.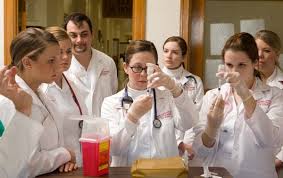 There is a shift in the country's health care needs which is now more related to chronic conditions like hypertension, arthritis, cardiovascular disease and diabetes as well as mental health conditions. This is due to the increasing aging population and spread of obesity in the country. Though it is known that chronic diseases are predominant today, our health care system is designed in favor of acute illnesses and injuries.
This shows that there is a need to make a change in nursing education. Nurses in the 20th century are educated in a different approach and the teachings and lessons are more into caring acute illnesses as well as injuries. Though it is still vital, it won't be enough in the current health situation of the country. The patient health needs are more complex today than it was before; therefore nurses must acquire a more advanced and focused education.
Nurses today must acquire leadership qualities, evidence-based practice, research experience, improved teamwork and collaboration abilities as well as competency in particular areas like geriatrics and community and public health. Due to the development of health care technologies, nurses are expected to master technological tools and apparatuses as well as be prepared for expanding roles. That is why nurses are required to get higher levels of education. They must be educated in new ways and approaches that best suit the health care situation today. New and emerging competencies in quality improvement, decision making and team leadership must be included in nursing education.