Surviving in nursing school is not that difficult. Like any other course, it takes perseverance and focus to be able to get by. Before you become a Registered Nurse (RN), you have to undergo a lot of research, study and interaction with fellow students and medical practitioners alike. As an aspiring nurse, there are certain tips that you need to follow. As a freshman who wishes to pass the course, there are routines that you need to do.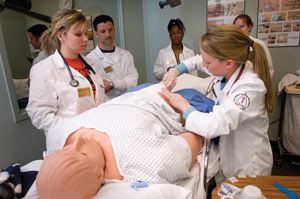 A Little Every Day
As much as possible, you need to study in spurts. RN classes are often on the go. If you are accustomed to studying your lessons one subject at a time, then you better start changing that. You need to try and be on your toes in order to keep up with your classes.
Learn to Focus
If you can do two to three things all the same time, that's good. However, be sure to prioritize your main task for the day. Learn to determine the key point your instructor gives you. Remember, you will be dealing with a lot of patients in the future, so try and focus from day one.
Act, Not Fact
Nurses are always on the go. Your patients don't necessarily want to hear things from you; they want results. Actions speak louder than words, so they say. And as a student nurse, you need to be aware of that.
Have a Study Group
RN classes might not be enough for you but if you try and study in a group, you will get to new and even old things. Study groups also provide moral support and help improve your performance in class.
It all seems like it's just a matter of getting used to, but with a difference. You are dealing with the course just like a professional nurse handles their job.