With video conferencing, dual stream capture and cloud-based technological innovation, some schools are establishing the convention for college distance learning systems. The University of Maryland has been using distance technological innovation for over 25 years and nowadays uses a system that contains six studio room classes equipped with high-definition cameras, video conferencing, LCD displays, annotators that allows teachers to write over shown pictures and cloud-based lecture capture and web-casting alternatives.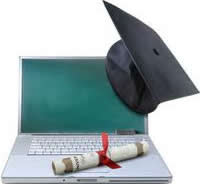 The idea behind these technological innovation is old, but the devices itself is new and is located in the remodeled Arnold E. Seigel Learning Center, which is associated with the university's School of Engineering. Every engineering class is streaming live and recorded for later on-demand watching. The live documenting of lessons is what places the University of Maryland's online studying system apart from others. "It's not like someone comes in and is documenting some extremely produced lecture for a topic. They're educating a class so as a university student at a distance, you're getting the identical education and learning as you would if you were here on campus," says Marty Ronning, assistant director of Distance Education and Technology Services at the University of Maryland.
This type of system "is becoming more of a de-facto convention for distance learning systems and college," says Scott Morgan, senior account administrator for Western Chester, Pa.-based Advanced AV. Morgan wasn't engaged in the UMD venture but does a lot of identical set ups in the mid-Atlantic area. The design of the remodeled studying center is designed to make the best academic chance of the university's learners. Each studio class room has a Polycom video conferencing system and four LCD displays by NEC. They also have Sony models HD cameras, a Panasonic A/V switcher, an Extron annotator and Mediasite by Sound Foundry as a web-casting and lecture capture system. The dual streams help to make as close to an on-campus atmosphere as possible for the school's off-campus members, says Ronning.