You constantly see the EMTs and the paramedics whether on the news or in the movie. You see them in their uniform responding to any accidents or disaster giving aid to victims. Sometimes you'll see them in ambulances, fire trucks, hospitals or helicopters. They are assigned in areas where help is needed. Both the EMT and the paramedics work in a variety of roles and are usually the first in area of accidents, medical emergencies, and natural disasters.
In the field of emergency medical services (EMS), there are different levels of accreditations for providers of care. Emergency Medical Technicians are the most typical kind of providers in all of EMS. They are the entry-level patient care provider accompanied by EMT-Intermediates and then paramedics.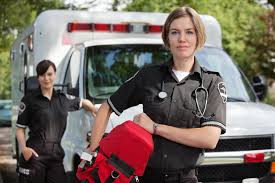 Both EMTs and paramedics have the skills and knowledge to move or transport patients and provide them with emergency care. The most important distinction between them is the quantity of education they receive as well as what they are permitted to do for patients.
EMTs usually complete a program that may reach 120-150 hours in length. Paramedic classes may be between 1,200 to 1,800 hours. EMT and paramedic courses consist of lectures, hands-on skills training and clinical internships. EMTs are educated in several skills including CPR, assisting patient with oxygen, providing glucose for diabetics, and assisting others with treatments for asthma attacks or allergy symptoms.
Paramedics are superior providers of emergency medical treatment and are highly educated in matters like anatomy and physiology, medications, cardiology, first aid and medical procedures. They expand their EMT education and learn more skills such as providing medications, starting intravenous lines, delivering advanced airway management for patients, and understanding how to resuscitate and assist patients with significant issues like heart attacks and severe injuries.