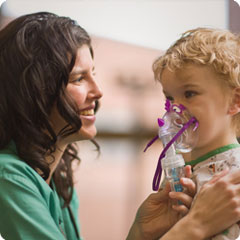 Registered respiratory therapists are known to apply systematic and theoretical knowledge to patients who need immediate respiratory care. It simply means that they are responsible in providing care to all patients with lung problems that are admitted in the hospital facility. They also give pertinent and truthful judgment about the patient's condition. All respiratory therapist work and coordinate with other members of the healthcare team in treating patients with respiratory problems.
Respiratory therapists play a vital role in every hospital setting since their job is to provide care to patients suffering from lung disease and disorder. They perform different respiratory care such as cardiopulmonary resuscitation, oxygen therapy, pulmonary drainage special procedures, sputum analysis, mechanical ventilation, humidity-aerosol therapy and health teachings about breathing techniques. They also work with other members of the healthcare team in the hospital setting like the emergency team, ground support, physicians, nurses, and other teams that provide intensive medical and surgical care.  However, some new respiratory therapists choose to work in special settings such as bronchoscopy laboratory, hyperbaric oxygen units and acute care respiratory unit.
They can also perform other things and work in special respiratory settings such as:
Pulmonary laboratory – Their responsibility is to complete important lab test and know the exact condition of the patient's lung.
Air or ground units – Respiratory therapist provide care to critical patients outside the hospital facility.
Intensive care unit – Their role is to monitor the mechanical ventilators that provides ventilation and oxygen to patients.
Furthermore, respiratory therapists have a very wide and broad scope of responsibilities in the hospital. That is also the main reason why most hospitals hire registered respiratory therapists that have the capability to provide advanced respiratory and pulmonary care to patients. They hire registered respiratory therapists who are competent, skillful and knowledgeable.